TREY 4th Annual Golf Tournament Fundraiser - Texarkana Golf Ranch - Saturday, September 30, 2017, 8 am -Breakfast and Lunch provided. Entertainment by the band: I've Heard Worse at Scottie's Grill 8 pm. The band members all knew and loved Trey Sutton.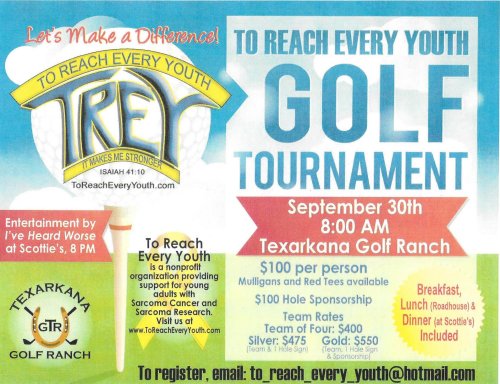 Click The Image To Enlarge

If you know someone who has sarcoma, please look at this website and contact us if you have any questions. We would like to provide recipients with electronic items to enhance their quality of life along their journey, items to use while waiting for doctor appointments, treatments, etc.

TREY Recipient Requirements:
Diagnosis: Sarcoma | Age: 18-24 Years of Age

Locations: Currently those who live in Texas, Arkansas, Louisiana, or Oklahoma are eligible. Areas of eligibility may expand to other states at a later date.
Our Purpose and Mission is to share God's grace while providing recipients with items to enhance their quality of life along their journey. Because of the health issues they experience we want to contribute our knowledge, resources and discoveries along that common path. This we do in memory of our son and friend, Trey Von Sutton, who went home to be with our Lord and Savior on July 5, 2010.
Our Goal is To Reach Every Youth ages 18-24 years diagnosed with sarcoma by providing inspiration and encouragement while continuing God's work through Trey's story.
Isaiah 41:10: Fear thou not; for I am with thee: be not dismayed; for I am thy God: I will strengthen thee; yea, I will help thee; yea, I will uphold thee with the right hand of my righteousness.